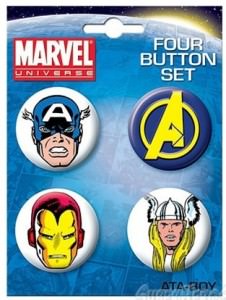 From the Marvel Universe Superheroes band together and form the Avengers.
This set of four buttons features three awsome Marvel Superheroes all which are a part of the Avengers. Each button has a great detailed head shot of Captain America, Thor and Iron Man, the fourth button in this set is the Avengers logo.
A great collectors item for Marvel collectors, look for more sets of buttons with other cool Marve Avengers.
Get your Marvel The Avengers Four Button Set.