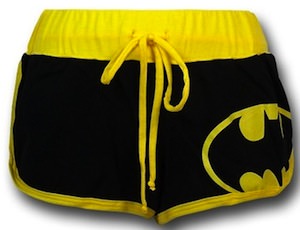 The ladies that like Batman and really short shorts are in luck.
These short shorts also called booty shorts are black with a lot of yellow accents and have the Batman logo on the front and the word Batman on the back.
With crazzy hot summers what better to wear then these Batman shorts for women.
These short shorts come in a range of sizes and are made from 50% cotton and 50% polyester.
If Batman is your superhero then come and check out these Batman Ladies Booty Shorts.