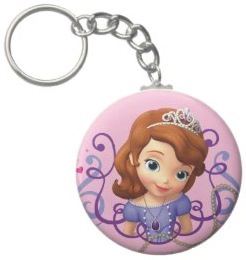 Cute Dinsey key chains are very fun to own and now you can have one of the litte princess Sofia The First.
This key chain is pink and round and has a picure of Sofia on it now your keys will be royal because Sofia the First is near them.
This key chain is not only great for keys, you can use it to decorate to. Hang one on you backpack, jacket or the wall you can use this key chain for all kind of fun tasks.
Come and have a better look at this Disney Sofia The First Key Chain.