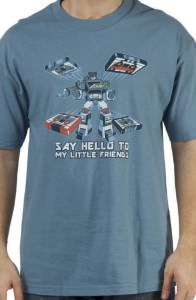 The Transformers have the Autobots and the Decepticons who often battle, clever disguises help like the Decepticon Soundwave who can turn into a microcassette recorder.
On the front of this t-shirt you will find one of the bad guy Decepticons Soundwave, a colorful image of him in action spitting out microcassette tapes and the saying "Say hello to my little friends!".
You can get this awesome Transformers Soundwave t-shirt in a huge selection of sizes that range from Small to 5XL and it is made from 100% cotton to give you the soft comfort you need and the long lasting durability you want.
Have a closer look at the Transformers Decepticon Soundwave T-Shirt.