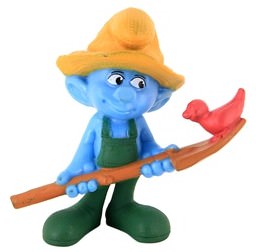 The Smurfs, wonderful little blue creatures. Each one with a useful purpose.
This is Farmer Smurf, as you would guess he grows the crops for the Smurfs to eat. The Farmer Smurf figure is very well detailed with his straw hat, green overalls and pitch fork with a cute little red bird sitting on the end.
Handmade with care this is a perfect gift for the Smurfs fan or a great desk top ornament, add this Farmer Smurf to your collection.
Get your The Smurfs Farmer Smurf Figure.