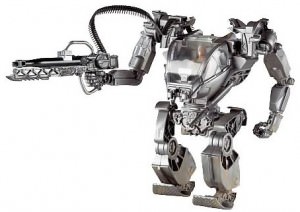 Iron Lady, The Mitsubishi MK-6 Amplified Mobility Platform (or "AMP" suit) from James Cameron's awsome movie Avatar is a distant descendant of the first  military exoskeletons used on Earth in the mid 21st century.
Now it is time for you to have one….for your Avatar figures that is.
This AMP suit has so much fine detail it looks awsome,  many many points of articulation and featuring a huge missle launcher, this suit works with most 3 3/4-inch Avatar figures, The Iron Lady is so nice you will want to just add it to a cool action figure collection.
Get your Avatar AMP Suit Action Figure.