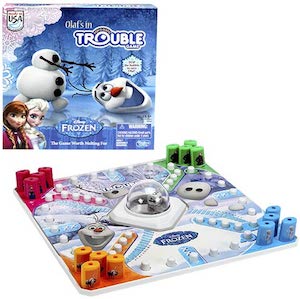 Hasbro is know for many games and Trouble is one of them and now there is a special trouble game all for Olaf from Frozen.
The Trouble age is the same as always but this time the game board is decorated with Olaf all over it and the game pieces are character from the Frozen movie.
You can play with Anna, Elsa, Kristoff or Sven and lets see who can win this fun Frozen board game.
Cold and grey days and nights are great for family fun and games and a Frozen board game can be enjoyed by young and old just like the movie.
So lets get Olaf out of trouble by playing this Frozen Olaf's In Trouble Board Game.