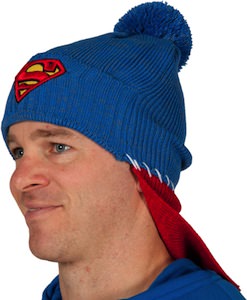 A nice blue Superman hat for the cold winter days is great but it became even better.
This winter hat is blue and has a nice blue pom pom on top and then there is the Superman logo on the front all great for a winter hat but this hat is special as it has a red Superman cape and that cape will keep your neck nice and warm.
And on this nice red cape you can again find the Superman logo to make it even more super.
This Superman winter hat comes in one size fits most so that almost anyone can enjoy it.
Come check out this Superman Caped Hat.