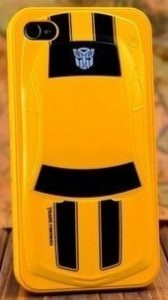 Protect you precious iPhone 4 and 4S with some serious attitude.
This is a hard case that features Bumblebee from the popular Transformers movies and television shows. Made from alloy this 3D version looks like the real Bumblebee while still in his car form. With the awsome yellow color of Bumblebee and black stripes you will also find in the rear window an Autobots logo.
Leaving all ports and buttons open for use this is the perfect case for the Transformers fan.
Get your Transformers Bumblebee iPhone 4 4S Case.