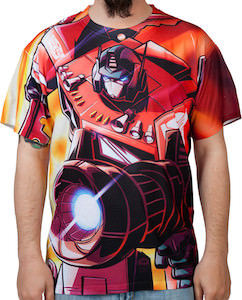 Are you looking for that wow Transformers t-shirt?
How about this sublimation shirt that has the whole front of this t-shirt covered with Optimus Prime.
Yes only on the front this t-shirt looks like a Transformer but after all the excitement you want a plain back to rest after seeing the amazing graphics of this t-shirt.
This men's Transformers t-shirt comes in sizes Small – 3XL and is the perfect piece of clothing for a supporter of Optimus Prime.
This is not one of those t-shirt with a picture from the Transformers movie on it the t-shirt is a picture from the Transformers movie.
Come and take a closer look at this Transformers Optimus Prime T-Shirt.