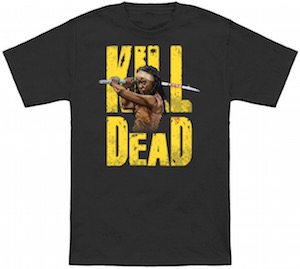 If you like The Walking Dead then you know all about that they have to kill a lot of dead people that they call walkers.
And one character is pretty good at using her sword to kill them.
This t-shirt shows Michonne with her sword that seem to have some fresh blood on it and behind her it says "Kill Dead".
And this Walking Dead t-shirt is available in a men and women's version in a bunch of dark colors and many sizes that go up to size 6XL.
So why wait for Michonne to show on the TV again when you can choose to wear this The Walking Dead Michonne Kill Dead T-Shirt.