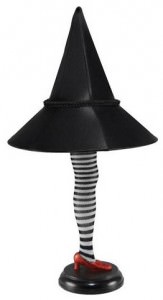 Stemming from the classic movie A Christmas Story this is a Wizard of Oz lamp that will be a favorite for both fanatics of these classic movies.
This lamp features the leg of the Wicked Witch of the East from the popular movie The Wizard of Oz, it looks just like the leg of the wicked witch as it was sticking out of Dorthy's house and Yes it has the ruby slipper.
The lamp shade is designed to look like the witches hat and both the lamp shade and leg base light up.
The Wizard of Oz Wicked Witch of the East leg lamp is 20 inches tall and the lamp shade is 11 inches in diameter that uses a 40 watt bulb, the leg base also lights up and uses a 5 watt type C bulb.
Have a closer look at the Wizard of Oz Wicked Witch of the East Leg Lamp.