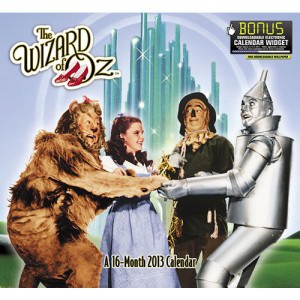 The classic movie Wizard of Oz is here to help you get through the calendar year of 2013, this is a must have for any Wizard of Oz collector or fan.
This calendar brings you all of your favorite and memorable scenes, one on each page. A special 16 month calendar so you will see many of your favorites like Dorothy, Cowardly Lion, Scarecrow, Tin Man, Wicked Witch of the West and amazing background details.
A standard wall calendar size: Size Closed: 11.0 " x  12.0 ", Size Opened: 22.0 " x  12.0 ", with traditional stapled binding and of course the bonus downloadable electronic calendar widget.
Check out the Wizard Of Oz 2013 Wall Calendar.
You may also like: