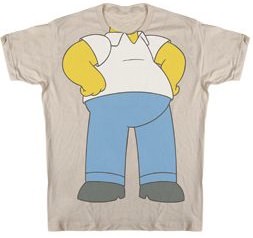 Did you always wanted to be Homer Simpson? Or do you know someone who does?
Now you can with this Homer Simpsons body t-shirt.
On this t-shirt you see Homer's body and your head will be Homer's head makeing you Homer.
You can get this Simpsons t-shirt in adult sizes so if you like to strangle your boy then wear your Homer t-shirt first and make them dress up like Bart.
Now is the time to get part of Springfields history by ordering the You Are Homer Simpsons T-Shirt.