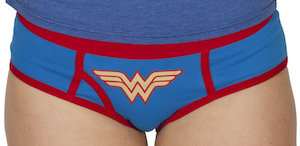 Are you a Wonder Woman fan?
If you are and you want to keep it a bit of a secret then how about some fun women's underwear that has the Wonder Woman logo on it. You can wear these cute undies under anything and nobody knows that they are Wonder Woman underwear.
These undies are blue and have red edges to make it stand out a bit more and then on the front there is the Wonder Woman logo with gold foil to make it perfect.
And these Wonder Woman undies come in all kind of sizes to make the fit perfectly.
You may also like: