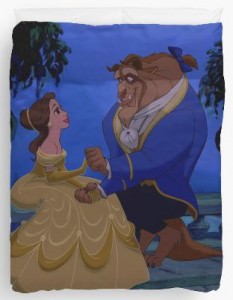 The perfect Disney duvet cover to complete your already magical room or accent any room is here.
On this duvet cover you will see a timeless and classic image from Disney's Beauty and the Beast, find Princess Belle in her yellow golden dress with The Beast in his blue suit and groomed to look good. In the background some trees and a blue sky.
This magical Disney duvet cover is available in sizes Twin, Queen and King and is made to be warm, comfortable and durable. It also features a concealed zipper and ties to keep the duvet inside tight and secure.
Check out the Disney's Beauty And The Beast Duvet Cover.
You may also like: