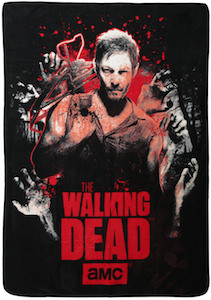 On that cold night you are on the couch watching your favorite TV character Daryl Dixon from The Walking Dead and have so much fun. But a blanket would make that night so much better.
And now there is this The Walking Dead fleece blanket that is great for the couch, chair or bed an on this blanket you can find a big picture of Daryl holding his crossbow on hi shoulder and he is surrounded by hands of walkers and some blood spatters to. And to make this blanket even better they even put a big The Walking Dead logo on it.
No more cold nights for you as now you can snuggle with this The Walking Dead Daryl Dixon Throw Blanket.