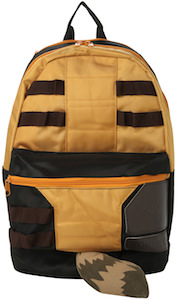 At first sight this backpack does not look all that special just an orange brown color bag but then you noticed that it has a tail. And yes that is a raccoon tail.
If you look next to the tail there on the brown piece your can see the name Rocket and a picture of Rocket Raccoon's face. So yes this is a Guardians of the Galaxy backpack and it even says that on the adjustable strap.
And to make this backpack even better they even build in a hood so that you can keep dry in the rain or just look amazing like Rocket Raccoon. And of course the hood has the ears of Rocket right on there.
This backpack is 12 x 7 1/2 x 17 inch and has two main compartment and that makes it perfect for school and work.
Come check out all the details of this Guardians of the Galaxy Rocket Raccoon Backpack.