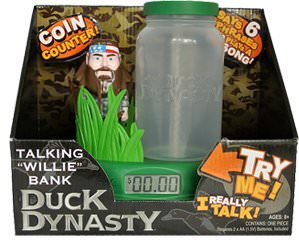 Do you need a new piggy bank but then less pig and more duck?
How about a Duck Dynasty money bank that counts you coins for you.
This money bank shows some grass and Willie Roberson behind it in camouflage clothing but with his famous bandana and besides that there is a big jar that says "Duck Dynasty" on it.
Now when you put money in the bank the counter will count it and music will sound or one of 6 phrases that will says will play.
Yes now you can have CEO willie keep an eye on your coins.
Let start saving in this Duck Dynasty Talking Willie Money Bank.