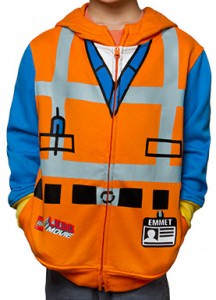 Do you have a little construction worker living in your house?
Now your child can look just like Emmet Brickowski from The LEGO Movie.
The front of the hoodie is orange and blue with silver lines and looks like Emmet's construction vest and it has Emmets ID badge on the lower left side.
The back of this hoodie is orange and has the image of Emmet as he looks in the Lego movie. The hood is orange and the sleeves blue.
This amazing hoodie is 60% cotton and 40% polyester and comes in sizes 4 years, 5/6 years and 7 years.
Your youngster will be saying, "Everything is Awesome" when he wears this The LEGO Movie Emmet Kids Hoodie.