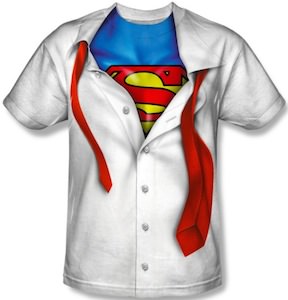 Want to feel al little bit like Clark Kent?
How about wearing this t-shirt. This t-shirt is white and looks a bit like a button down shirt and under it there is you Superman outfit.
Of course this is all printed on a normal t-shirt complete with the red neck tie and the Superman logo.
Wearing this t-shirt will make you feel like you can dress like Superman.
And because many people want to know how it feels to be a Superhero they make this t-shirt in sizes Small – 3XL.
I would not wait any longer and just come and order your I Dress Like Superman T-Shirt.