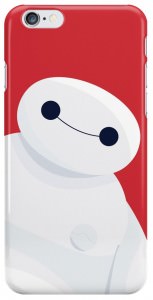 Baymax is a creation nurse robot that can help you heal, Baymax is a very important character in the cool animated movie Big Hero 6.
On this iPhone case and skin you will see the big white puffy and round Baymax with his two camera eyes and smile, the rest of the case is red which allows Baymax to stick out.
This Baymax case is available in the Apple devices as follows:
iPhone 6 Plus
iPhone 6
iPhone 5s
iPhone 5c
iPhone 5
iPhone 4S
iPhone 4
Made to specifically fit it's device perfectly while leaving you all ports and buttons open for use, also protecting from scrathches, dents and bumps.
Try out this Big Hero 6 Baymax iPhone Skin Or Case.