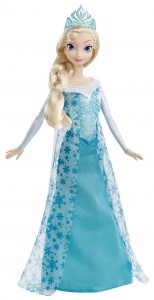 Elsa of Arendelle has captured the many hearts of Disney fans, now you can have your own Elsa doll that you can re enact icy cool adventures with.
This doll features the beautiful blue gown and glittery blue tiara seen on Princess Sparkle Elsa in the awesome animated Disney movie Frozen, with so much detail you will think that she has jumped out of the television screen and right into your hands.
The Princess Elsa doll measures approximately 5.5 x 2.2 x 12.8 inches and will be perfect for play or if you want to just collect and display.
Don't wait, go and get the Disney Frozen Sparkle Princess Elsa Doll.