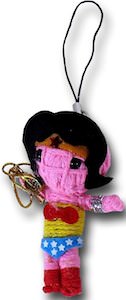 Are you waiting for a fun Wonder Woman key chain?
Wait no longer as this is the one you are looking for.
This is a 3 inch tall string doll that looks just like Wonder Woman. This Wonder Woman doll is great as key chain, zipper pull or decoration for a bag or something.
The Wonder Woman key chain is a string doll giving it a voodoo like feel witch makes it even more interesting.
And the amazing thing is that now you can carry around Wonder Woman all day long as the key chain is a great size and you can hang it on all kinds of things.
So lets not wait any longer lets get a Wonder Woman String Doll Key Chain.