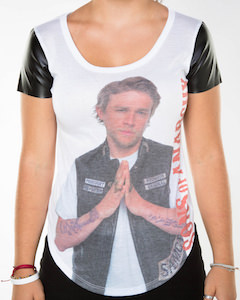 Women that like Sons Of Anarchy are gone love to get this t-shirt.
This white t-shirt has black faux leather sleeves and besides that this shirt shows Jax Teller in his typical post that he holds his hands together almost like he is praying.
The picture has a worn look but that gives this shirt that extra bit it needs to become awesome.
You can get this Sons Of Anarchy t-shirt in women's junior sizes Small – XL.
With Jax disappearing from the TV you of course want a reminder about how amazing Sons Of Anarchy is and was. So lets not wait to long and order a Sons Of Anarchy Jax Teller T-Shirt With Leather Sleeves.