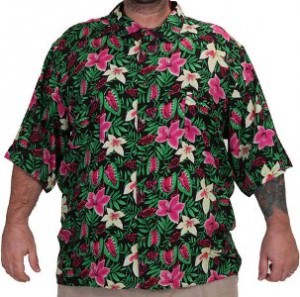 The classic movie of the Goonies, with so many fun characters who is your favorite? Maybe Chunk, if so check out this shirt.
This Goonies shirt is based after the one that Chunk wore and did the famous truffle shuffle, find a hawiian shirt that is completely covered in venus fly traps, find the white and pink flowering petals and of course the toothy trap.
This full button up shirt is available in a wide variety of men's sizes that range from Small to 3XL and is the perfect shirt for many occasions like a hawiian party, trip or add it to your Goonies Chunk Halloween costume.
Get a closer look at the Goonies Chunk Flower Button Up Shirt.