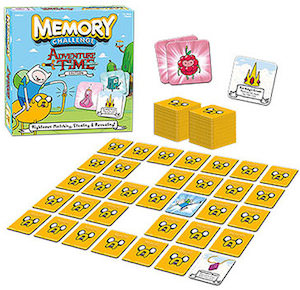 Do your kids love to play memory games? Well, this Adventure Time memory challenge game will take you on a great adventure.
Remember all you most favorite memories and characters from the televisions series while you play the Adventure Time memory game.
This Adventure Time board game features Finn and is best friend Jake with 56 other great character cards and also includes 16 item cards.
Playing this memory game will sure take you on some great adventures with Finn, Jake and all there wonderful friends.
Enjoy a fun day with your friends and play this fun Adventure Time Edition Memory Challenge Game.