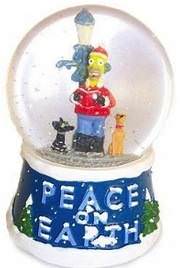 Homer Simpson is the kind of person who is confussed every Christmas year after year.
But this year he tries to do better. They Put Homer in a snow globe together with there dog Santa's Little Helper and the cat Snowball II. Homer will try to make you smile this Christmas.
And not only is this a snow globe that will snow when you shake it no this is also a music box. There is a wind up music system that will play some fun music while you make Homer stand in the snow.
On the front of the Simpsons snow globe it says "Peace on Earth".
Now is the time to get your decorations figured out and I think  you need a Homer Simpsons Musical Snow Globe.