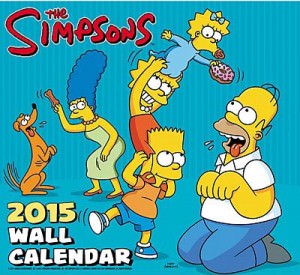 Who doesn't like the Simpson family and all of the antics that happen during their every day lives. Homer, Marge, Bart, Lisa and Maggie, they make for one great animated TV show. This 2015 wall calendar features the longest running animated TV show in American history and we all know why.
This calendar is full of amazing color photos of the Simpsons during every month of the year. Each page contains a previous and next month view. There are some famous birthday's included on every day and holidays are marked too.
When hanging on the wall the calendar measures 12″ x 22″ and it includes September to December of 2014 to make it a 16 month calendar all together.
Spread some smiles around the house or office with The Simpsons 2015 Wall Calendar.
Save 20% on this product with coupon code 20PERCENT