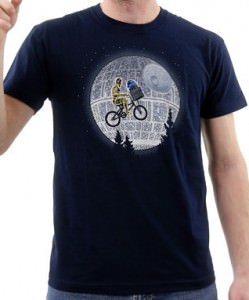 One of the most memorable scenes in film history is from the 1982 movie ET when Elliot rides his bicycle across the moon with ET in his carry basket.
This amazing t-shirt from Next Level recreates this scene using Star Wars characters.
In this image, gold colored C-3PO is riding a bike across a grey colored Star Wars Death Star Imperial Battle Station with blue and white R2-D2 riding in the basket.
This navy blue, 100% cotton Star Wars t-shirt comes in standard men's sizes S – 3XL and women's sizes S – 2XL and the 8.5" x 11" image has a semi-gloss coated finish for durability.
Surprise your friends when you wear this Star Wars Bicycle and ET T-Shirt.
You may also like: