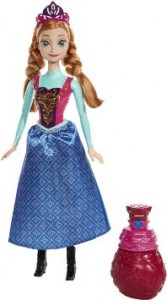 Little girls everywhere will remember the hit Disney movie Frozen with this amazing color changing Anna doll.
Princess Anna of Arendelle felt that she didn't have the magic touch like her sister, but with this doll set, Anna can be helped to magically change the color of her crown and dress bodice.
This color change Anna doll is wearing her blue dress with pink bodice and crown and comes with a plastic perfume bottle that you fill with very, very cold water that you spray on her to change the color of her crown and bodice.
Spray again with warm water and the colors change back.
Take a look at this Disney Frozen Color Change Anna Doll.