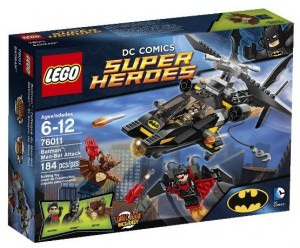 The many battles Batman has gone through and the many different weapons and cool mobiles he has used, this is one scene done in LEGO you will want to collect.
This LEGO set features 3 LEGO minifugures of Batman, Nightwing and Man-Bat each with different assorted weapons, also you will get to build the Batman BatCopter! Yes the helicopter that Batman has turned into his own with spinning rotors, 2 flick missiles, working winch and hook and an open cockpit to put the minifigure in.
This amazing LEGO Batman battle scene has a total of 184 pieces waiting for you to build and recreate scenes or just display for other DC Comics fans.
Collect or play with the DC Comics Batman Helicopter Man-Bat Attack LEGO Set.