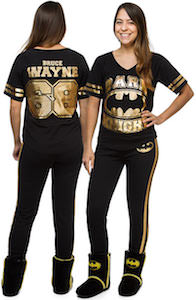 If you are a female fan of Batman and Bruce Wayne then this pajama set could be perfect for you.
The set includes shirt and pants and both are black with gold details.
On the front of the shirt you can find the Batman logo and around it the words "Dark Knight" and on the back it says "Bruce Wayne 68" on the sleeves you find two gold stripes to make them kinda look like jerseys.
The black pajama pants have the Batman logo on it and a golden stripe on the side.
You can get this Batman sleepset in women's sizes Small – 3XL and it is the perfect way to start dreaming Batman style.
You may also like: