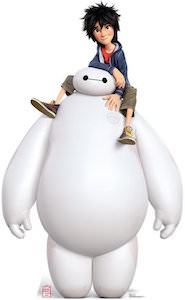 Do you want a real size Baymax and Hiro Hamada?
You are in luck as now you can get this life-size poster that can stand by itself of Baymax with Hiro sitting on his shoulders.
This cardboard standee is 76 inch tall and 46 inch wide and is an officially licensed Disney Big Hero 6 product.
This cardboard poster is great for a Big Hero 6 party or just to decorate. And when room for Baymax and Hiro runs out then you can just stand them flat against a wall so that they still look great but don't stand in your way.
Get ready to have fun with this Big Hero 6 Baymax And Hiro Freestanding Cardboard Poster.