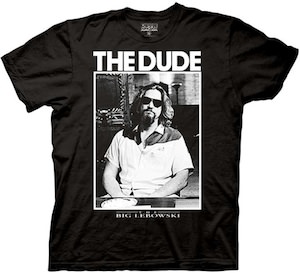 There is the dude from the Big Lebowski movie and you can own this t-shirt.
This black t-shirt shows Jeff Lebowski better knows as "The Dude" complete with dark shade he really poses for this shit.
Besides the picture you can see in big letters above it the words "The Dude" and below the picture in small print the words "Big Lebowski".
You can get this The Dude t-shirt in all kind of sizes and it has a standard fit and is made from 100% cotton.
So if you are in to The Dude then you may want to have a closer look at this The Big Lebowski The Dude T-Shirt.