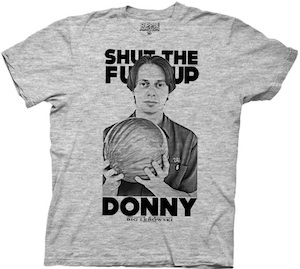 Remember Donny from the Big Lebowski movie?
On this t-shirt you can see a picture of Donny holding his bowling ball as that is what we know Donny liked to do.
Bowling with his friends and The Dude was one of them.
They didn't always appreciate what Donny had to say and that is what this t-shirt is all about.
Behind Donny it says the words "Shut the F**ck up" and then below his picture it says "Donny" as this was the typical quote used against almost anything Donny had to say.
This Big Lebowski t-shirt comes in sizes Small – 2X- Large and is made from 100% cotton and has a standard fit.
So lets forget Donny and wearing this t-shirt can help so come get your The Big Lebowski Shut the F**CK Up Donny T-Shirt.