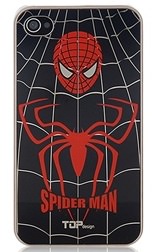 So you got a nice iPhone 4 or iPhone 4S but how do you protect it from harm?
We have the perfect sollution for that.
Superhero protection for you phone that is what we have to offer.
This hardcase that will fit your iPhone perfectly and keeps all the ports and buttons accessable.
And more importantly it is a Spider-Man iPhone case.
The case shows a black background with a white spiderweb and in red the word "Spider-Man" and a big spider and of the face of Spider-Man.
You see Spider-Man is the superhero that keeps your phone save.
Come and check out this Spider-Man Black Case for the iPhone 4S.