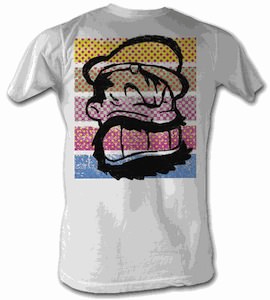 There is Popey's enemy Brutus printed on this t-shirt.
As you can see the shirt is white and has colored stripes on it with the portrait of Brutus on top of that.
And Brutus is smilling so much that he needs to close his eyes doing so.
This Popeye t-shirt comes in a wide selection of adult sizes from Small – 2Xl.
If you want a Brutus t-shirt then don't wait come and get this Brutus Colored Stripes T-Shirt.