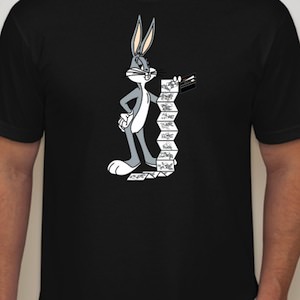 This Looney Tunes t-shirt shows our favorite rabbit Bugs Bunny.
And Bugs is showing you all the pictures he has in his wallet.
Yes rabbits  need wallets to because where else do they put their money?
So if you like a fun rabbit t-shirt then you should have a closer look at this Bugs Bunny t-shirt.
And don't worry this  t-shirt comes in a range of adult sizes so it will fit you to.
Get ready to shop for your own Bugs Bunny Showing Wallet T-Shirt.