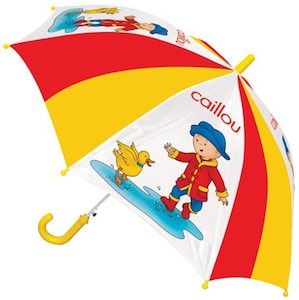 We all know that you can get wet when it rains but that will not stop Caillou from going outside and play in the puddles.
And if your kid like to go outside in the rain to then you should check out this fun umbrella.
This kids umbrella has yellow and red panels and a white one and on the white one you can see a big puddle with a little duck and Caillou in his rain gear.
This kids umbrella is so cute that kids and adults are gone love it.
So lets all wait till the rain comes but before that order this Caillou Umbrella.