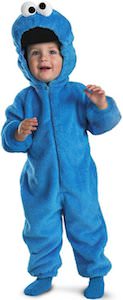 Kids love Sesame Street and Cookie Monster is of course one of their favorites.
And this Halloween toddlers and kids can become this cute blue monster that loves cookies.
An all in one jumpsuit that is easy to put on and fun to wear for kids. Soft and cuddly will the kids become when they start looking like Cookie Monster with two big eyes on top of the hood.
You can get this Cookie Monster costume comes in many sizes from toddler and small children..
Besides being great for Halloween kids are gone love this costume many more days when they want to play to be a cute monster.
Come and get a closer look this Sesame Street Kids Cookie Monster Costume.