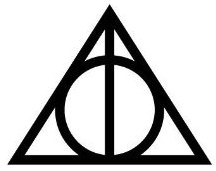 You car window is gone look so great when you stick this Harry Potter Deathly Hallows symbol on it.
And this cool decal comes in different colors. And what you will see is only the symbol the rest is see through.
This great sticker can't be missing in any Harry Potter collection as it just looks so good and will stick on almost anything. Maybe you boring laptop or a water bottle will look much better with the Deathly Hallows symbol.
And this decal comes in two sizes so choose the one that fits you needs. Of course as it originally is a car decal it is made to withstand the outdoors and will last a long time.
Wait no longer and get your own Harry Potter Deathly Hallows Symbol Decal.