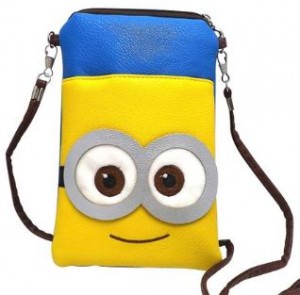 Yes this is one of those crazy and fun minions from the cool series of movies Despicable Me, and this minion is working for you by keeping your change, wallet or small personal items safe.
This is a change purse type of bag that is in the shape of a two eyed minion, find the goggles showing the minions large eyes with a smile and finished with some blue which is the color of it's clothes.
The Despicable Me minion purse is made to be strong and features a long carrying strap measuring 60 cm that is fastened using two clasps making it easy to clip off and use with no strap.
Keep all you small persons safe in this Despicable Me Two Eyed Minion Purse.