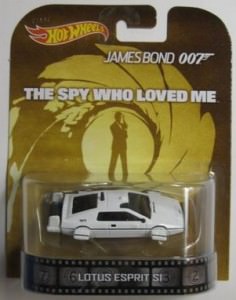 Want everything that speaks double O seven? Well here is just one more thing you need to have for your collection. Even kids will want this stylish car to shoot across the kitchen floor.
You can't beat Mattel's Hot Wheels and their packaging. The James Bond Lotus is white, sleek and fast. It is in clear packaging with a cardboard backing that has the ever famous graphic of looking at James Bond through the bullet hole, holding his gun, ready and waiting.
This Hot Wheels die cast car measures approximately 3 inches and is in 1/64 sizing. It was released in 2014 and is from the movie, "The Spy Who Loved Me". It is the Lotus Esprit SI, which you know can jump to some serious speeds for fast getaways, however, it may not be compatible with some Hot Wheels race tracks. Bummer! It has perfect packaging for the series collector, you can display it and show it off without taking it out of the packaging. Thanks Hot Wheels.
Rev your secret spy engine with the Die Cast Hot Wheels James Bond Lotus.