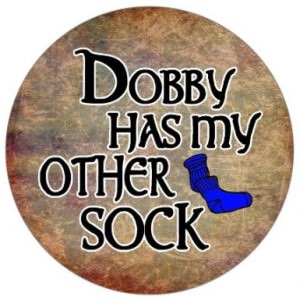 Who wouldn't want to set free a house elf from an evil wizard like Lucius Malfoy? Harry Potter sure did and he could easily wear this button around showing his support for Dobby the house elf.
This round button manufactured and created by Geek Details has a worn sepia background with the words "Dobby has my other sock" and a picture of a little blue sock.
It is 2.25″ in diameter and features a standard pin back way to fasten it to your shirt or cork board.
If you keep losing your socks, wear the Harry Potter Dobby Has My Other Sock Button.