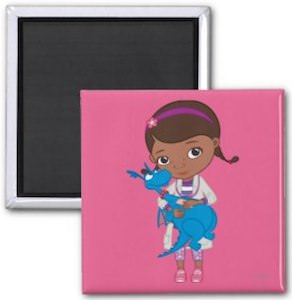 Kids love magnet as they can stick them on to so many surfaces and play with them.
Now there is a magnet the kids are surely gone love.
This is a Doc McStuffins magnet that shows the doc holding Stuffy the blue dragon.
I guess Stuffy hurt himself again. But no need to worry as Doc McStuffins will take care of this plush.
This Doc McStuffins magnet comes in a square and round version and both have pink background with the doctor and patient in front of that.
Surprise your kids with this fun Doc McStuffins And Stuffy Fridge Magnet.