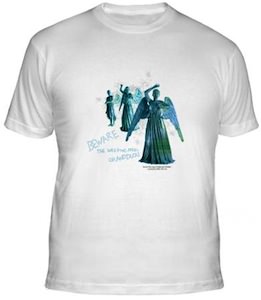 Doctor Who fans already know to be really careful around weeping angels.
And to warn the rest of the world the Doctor now came up with this t-shirt.
On the shirt you can see 3 angels and the text "Beware the weeping angel Oh and Duck" of course all from the hit TV series Doctor Who.
This weeping angel t-shirt is availible in a selection of fun colors and a wide range of sizes and there is even an organic t-shirt availible.
Teach the world about the weeping angels by wearing this Doctor Who Beware Weeping Angels And Duck T-Shirt.
You may also like: