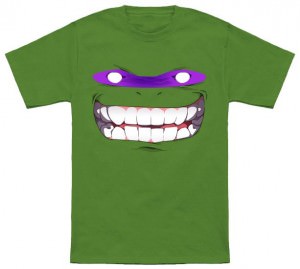 Who is your favorite Ninja Turtle? If it is Donatello then you are going to absolutely going to love this t-shirt. Get it before it disappears into the sewer system or Shredder gets his hands on it.
The Donatello t-shirt comes in a kiwi green color, just like that of the Teenage Mutant Ninja Turtles skin color. The graphic is Donatello's face. It has his eyes covered with his purple mask and the biggest smile that you have ever seen. This is fantastic.
This t-shirt comes in sizes ranging from a Small to 2XL and is made from 100% pre-shrunk cotton, how exciting, it will keep its shape for all time. Available in both men and women's fit.
Smile for a selfie with the Donatello Face TMNT T-Shirt.