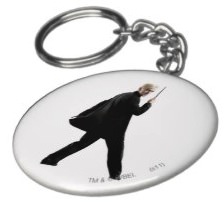 Lots of muggles don't like Draco Malfoy but he is just a insecure boy who still needs to find his way around the wizard world.
Now you can show the world a how good he looks by caring this key chain. The key chain has Malfoy ready for battle with the wand in his hand almost like James Bond.
Go have a better look at this and other version of the Draco Malfoy Wand Key Chain.