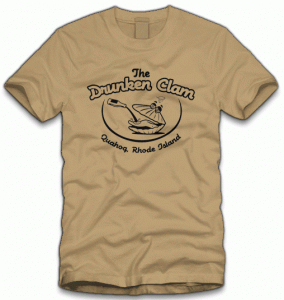 The Drunken Clam, every Family Guy fan knows exactly what this great establishment is. For the rest it is a common gathering place, a Pub for some of the cool and hillarious characters from the animated television series Family Guy to meet and have a few brews.
This Family Guy t-shirt features an image of a clam chugging back a beer with the "The Drunken Clam" printed above it and "Quahog, Rhode Island" below. Made from preshrunk 100% cotton you can find this Drunken Clam t-shirt in many different sizes.
Get your Family Guy Drunken Clam T-Shirt.