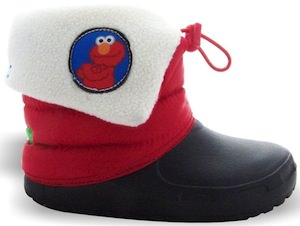 Winter is great but how do you keep your little once feet dry and warm?
Simple give him or her some nice winter boots like these once based on Elmo from Sesame Street.
These winter boots have rubber sole with tons of traction and a red top part that is moisture resitant nylon.
Of course the top part is in the color Elmo red and even has a picture of Elmo and hit name on it.
You can get these Sesame Street winter boots in toddler sizes 5T to 10T.
So get your kids fun and warm winter boots like these Sesame Street Elmo Toddler Winter Boots.