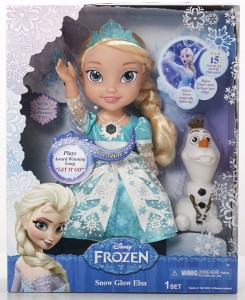 This is an Elsa the Snow Queen doll from the hit movie Frozen, Elsa also comes with the friendly snowman Olaf. The Elsa doll is dressed in a beautiful icy snow gown that is blue and white, she is also wearing her magical snowflake pendant that lights up when she sings dofferent songs "Let It Go" and says 15 total sounds and phrases from the movie Frozen.
This will be an amazing gift for any Frozen fan, you get Olaf and you get the Elsa doll which is part of the Disney "My First Princess" series.
Collect and play with the Disney Frozen Elsa And Olaf My First Princess Singing Doll.