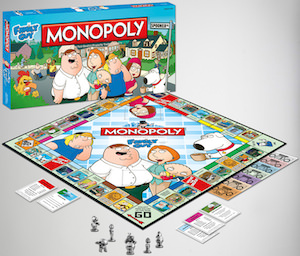 The cast from Family Guy wants to play a game with you!
And for that reason they developed this special Family Guy Monopoly game. A special Monopoly game of course has a board with the whole Griffin Family on it and of course Brian is on that to. And then there is the play pieces they are the family to. There a piece for Peter, Louise, Stewie, Brain, Meg and Chris so you can decide who you want to be.
And now you are set to play in the world of the Griffins with special streets and money.
Board games are great and this one is super, don't wait just check out this Family Guy Monopoly.