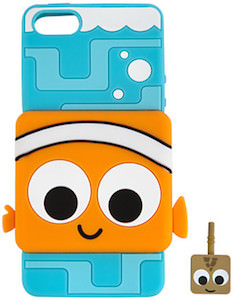 If you have an iPhone 5 or iPhone 5s then you know that they look kinda serious.
How about making them a bit more fun with this Finding Nemo phone case.
The case looks like water and on that there is a big square clownfish yes it's Nemo and Nemo will protect you phone from harm and makes it look so much more fun. And Nemo likes to play with his turtle friend Squirt and that is why this case includes a dust plug that looks like Squirt.
And you can use this fun Finding Nemo case on the iPhone 5s and the iPhone 5 and yes buttons and ports are all accessible.
Come have a better look at this Finding Nemo And Squirt iPhone Case.