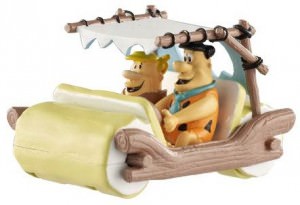 YABBA DABBA DOO!
Yes it is Yabba Dabba Doo time with this amazing collectors item that will be the center of your memorabilia.
This is the Flintmobile from the popular cartoon television series The Flintstones, I'm sure Fred and Barney would be proud of the quality, craftsmanship and amazing attention to detail of this piece.
This is a 1:50 scale die-cast vehicle that is part of the popular and very cool series Metal Hot Wheels Elite line, not only is this a great collectors item of the Flintmobile you will also get mini-figures of Fred Flintstone and Barney Rubble.
Collect this cool Flintstones Die-Cast Flintmobile.