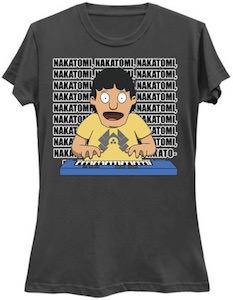 All true Bob's Burgers fans know about his musical skills and now you can get this Gene Nakatomi T-Shirt to show the world about it.
If you are a true fan of Bob's Burgers then you know the episode that Gene Belcher was making the school musical and as expected it had to be themed around Die Hard and on the shirt you can see a part of a song.
On the shirt you can see Gene and his keyboard and behind him a part of the song and it says "Nakatomi" a lot fo times.
You can get this fun Bob's Burgers t-shirt in styles for men and women and it comes in many colors and in sizes Small – 6XL.
You may also like: