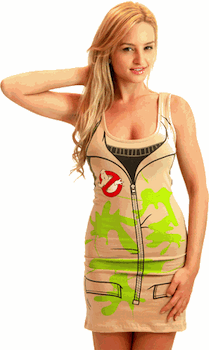 Now you can be a sexy Ghostbuster by simple wearing this Ghostbusters tank top dress.
The dress is a great costume for Halloween or other dress up parties but can easily be worn everyday.
On the front they almost look like coveralls with a printed zipper. And there is of course the Ghostbusters logo on it and lots of green slime marks.
On the back you can see the backpack that the Ghostbusters wear and again some slime patches.
Get ready to catch some ghost in this Ghostbusters Tank Top Dress.