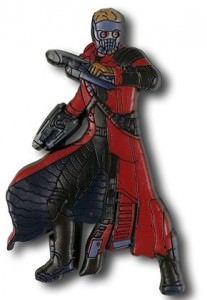 Peter Quill likes to refer to himself as the Star-Lord, but who is he kidding? He was always Star-Lord ready to become one of the Guardians of the Galaxy.
Star-Lord is in his full gear to take on the galaxy. He has his mask on, his element guns in hand and ultimately his suit that helps with his strength and durability.
This soft magnet measures 3.5 inches tall and is made of soft and bendable plastic. It makes it the perfect piece to put on anywhere a magnet will stick.
Hold up your important papers with the Soft Magnet Of Star Lord.