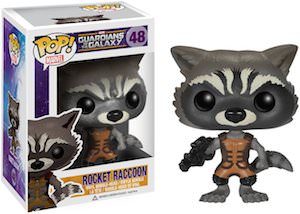 Now you can have your own Rocket Raccoon that shakes his head at you all day long.
This 3 3/4 inch tall bobblehead is made by Funko in the Pop! vinyl range. This Guardians of the Galaxy figurine has all the details you expect from Rocket and he would be a great addition to your figurine collection.
And Rocket Raccoon comes in a display style box that gives you the option to leave it nicely in the box so that it stays in new state.
With a little bobblehead like this you have a great character to for on your desk or book shelve.
Come take a better look at this Marvel Guardians of the Galaxy Rocket Raccoon Bobblehead.