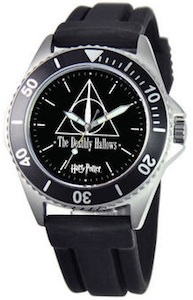 Why do kids always get the cool watches?
No worry this watch is not for kids but for adults and it is an great looking Harry Potter watch.
The watch is stainless steel and has a black rubber strap.
And the watch face is black and on that it has the Deathly Hallows symbol and below that the words "The Deathly Hallows" and the Harry Potter logo.
This watch is not one that stands out but it is very nice and clearly the perfect watch for a Harry Potter fan.
If you would like a new watch then you should check out this Harry Potter Deathly Hallows Logo Watch.