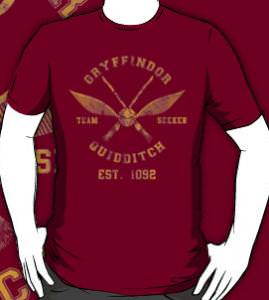 Be part of the Gryffindor Quidditch team with this team t-shirt.
From the awesome world of Harry Potter this is the logo for team Quidditch of which Harry Potter is usually the team seeker, find an image of the logo and the text printed "Gryffindor Quidditch Team Seeker EST. 1092".
You can find this 100% cotton t-shirt in a huge selection of 21 colors aswell as many sizes to choose from, also check out the different style of shirts to get your Gryffindor Quidditch logo on.
Support your favorite team with the Harry Potter Gryffindor Quidditch Team T-Shirt.