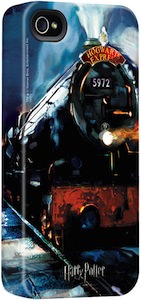 It doesn't matter if you like trains of Harry Potter because this case will make both people happy.
This Harry Potter case for the iPhone 4 and iPhone 4S shows the Hogwarts Express the train that Harry and his friends took to get to the Hogwarts school.
And this case not just looks nice it also will protect your iPhone from harm and maybe Harry will put an extra protecting spell on it.
Come and have a better look at this Harry Potter Hogwarts Express iPhone Case.